This soba noodles recipe with fresh halibut (or fish of your choice) and veggies is melt in your mouth delicious, without all the creamy sauce that racks up the calories. Dave and I have been blessed during our time here in Alaska to have been given lots of delicious fresh caught fish to cook, which is why we used fresh halibut when we made it. Halibut can be pretty pricey (especially fresh caught) in the stores, so unless you're wanting to splurge a bit, any type of fish will do!
Ingredients ≫≫

Soba Noodles
Fish (If you're buying frozen, which is perfectly fine, Wild Alaskan Caught is the best...and I'm not saying that because we live here. Just don't buy farmed fish, pretty please.)
1/4 Cup Onion
Fresh Garlic Clove
Lemon Slices
Sea Salt
Fresh Veggies, your choice of veggies and how much...we used:
broccoli (chopped into very tiny pieces)
shiitake mushrooms
cherry tomatoes
Chop up the veggies, we used
this handy gadget
we got from my Grandma and Grandpa a few years ago that Dave still exclaims is his favorite Christmas gift ever. What can I say, the man loves to cook.
In the pot below your steamer, along with the boiling water, drop in the crushed fresh garlic. On top of the steamer place onions first, then whatever other veggies you chose (except the tomatoes), and your fish on top. Squeeze a slice of lemon or two on the fish and veggies and sprinkle a bit of sea salt.
Steam for about 10 minutes with the lid on or until the fish flakes with a fork. While you're steaming the fish and veggies, boil the soba noodles for as long as the package calls for. If you're using tomatoes, like we did, cut them up and put them on after everything is plated; otherwise they get mushy.
Mix everything together and add more spices if needed, just do a quick taste test and feel it out. I put a little sriracha (duh) on mine and it was fabulous.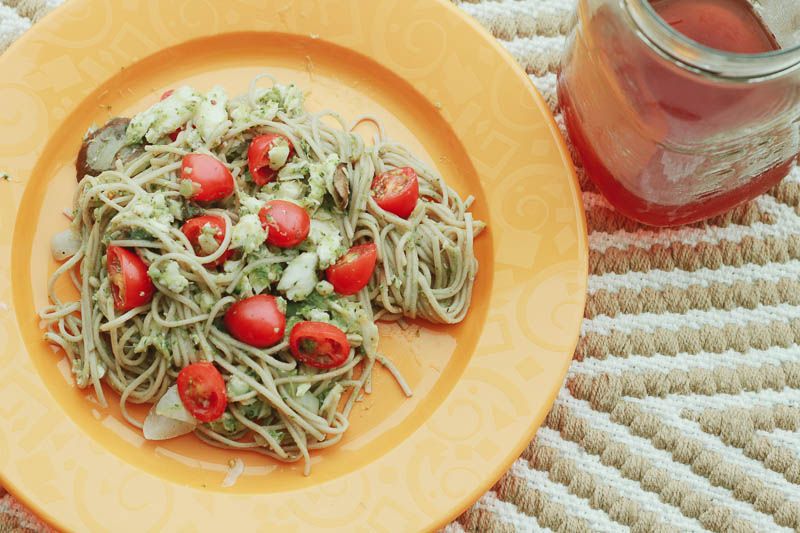 Enjoy! I savored every bite along with an
Alaskan Rasperry Wheat
beer, talk about the perfect dinner. And if you try it with another type of fish or totally different veggies, I'd love to hear about it and how it turned out. We've been trying all kinds of variations and I haven't found one that doesn't make me weak in the knees. Also, as you can tell by the pictures, or if you've read my blog for sometime you already know,
my husband
is the mastermind behind this recipe (and
most of them
on here besides my baked goods and drinks)...so make sure to give him a shoutout if this recipe is something you enjoy and make sure to let us know which recipes you see around instagram (
his
/
mine
) that you'd like a recipe for!
Dancing while cooking optional.
PS ≫≫
Dave
is doing an interview with USA Today this afternoon, show him some love on
twitter
?